OUR PROGRAM
Your monthly sponsorship helps provide nutritious meals, clothes, healthcare and an education to orphaned children in over eight countries. It will enable the guardian, often a family member, to provide the level of care we wish for all the children in our own lives.
Facts & Figures
Children deserve the most in life. That's why we've made orphan sponsorships a communal project.
Orphaned children deserve the best in life. That's why we've opted to do away with the 1:1 model. With multiple donors providing each child with all the essentials for their emotional, psychological, and physical growth, we can help every orphan pave a sustainable way to a brighter future in the face of tremendous loss.
Donate Now
Make a contribution where it really counts.
Our unique approach makes charitable giving affordable and rewardable, and allows you to transform lives in ways that cost you just a few pennies (or cents) each day.
Receive a Feedback Report in less than 12 months
You'll receive a welcome pack so you can get to know your sponsored child a little better, and after a year we'll send you a feedback report so you can see exactly how your generous contributions are improving their life.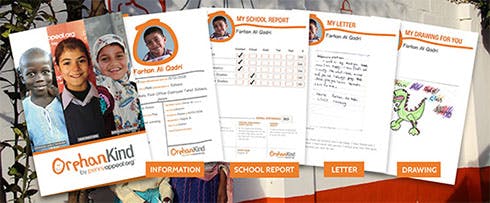 Children Like Mohammed deserve the best
Mohammed became a beneficiary of our OrphanKind program in 2016 when his father passed away. Generous donors like you provided him with the essentials for his emotional, psychological, and physical growth after his loss. Surrounded by children just like him and a doting foster mother, he is achieving high marks in school and enjoys playing soccer with friends.